6 Paper Bag Design Ideas to Make Your Bags Stand Out
Luxury paper bags are widely used from retail to events to promotions. In fact, they can really make your products stand out, whether it's on the high street, at an event or at a trade show. In short, your paper bag design needs to be striking for maximum results.
We have highlighted 6 ways to make your paper bag design stand out. Click on the links to find out more about each bag. Enjoy!
1. Make your logo the centre of attention!
Logos can be printed using a matched pantone colour, or using full colour CMYK printing. Tip: the printing colour settings are different for coated and uncoated stock. Click here for more details.
2. Match your bag designs to wrapping paper and boxes
For the ultimate in customer brand recognition, why not match your paper bag design to your printed tissue paper or gift boxes.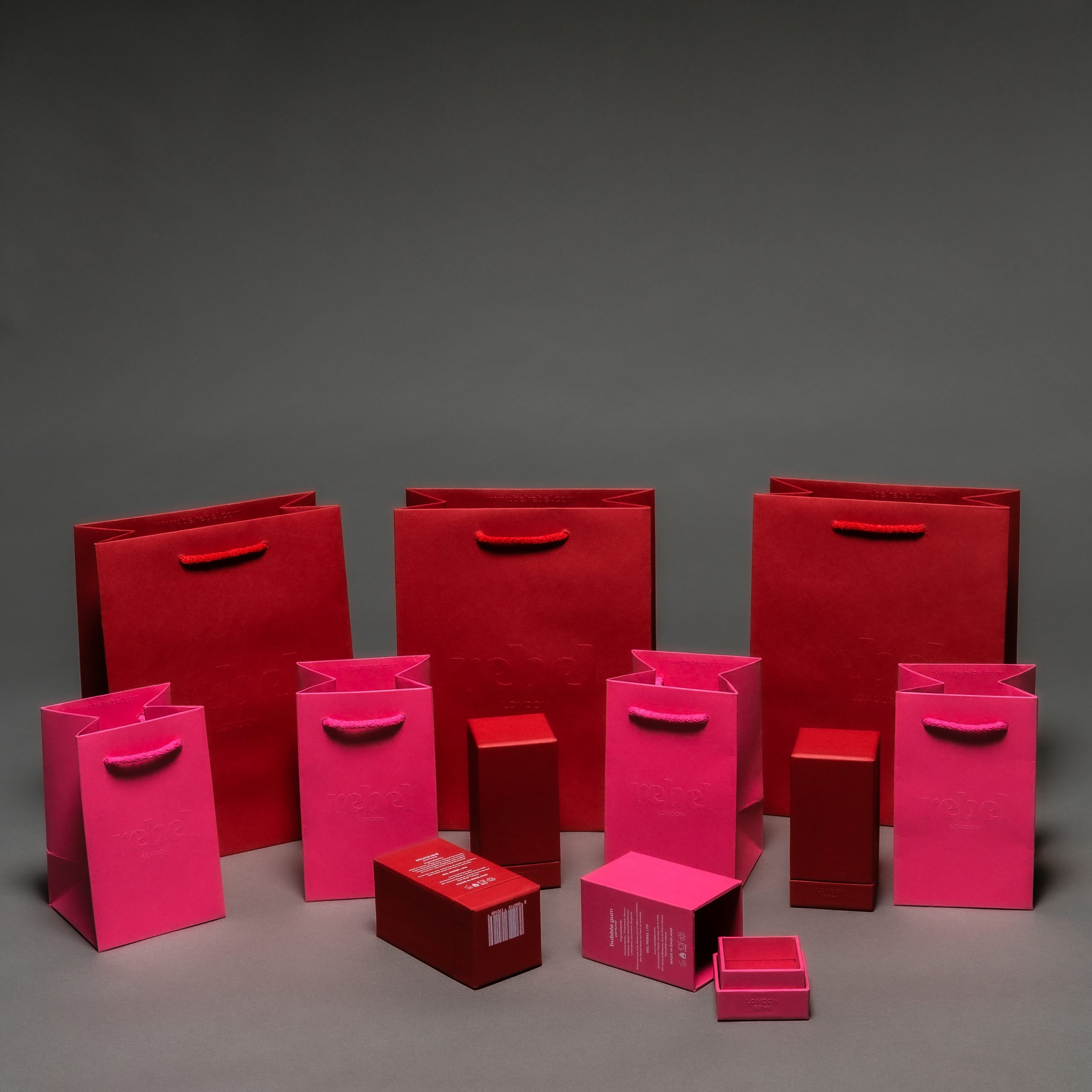 3. Promote the sustainability of your brand
Why not print information about the bag's recycled content on your bag to match your brand's green credentials?
We can print this message for free if you allow us to place our company details on the base of the bag.
4. Choose the right paper
Choosing the right paper can make all the difference to your paper bag design. The options range from 100% recycled paper, kraft paper, to 100s of different colour, texture and thickness options. The type and weight of paper used will also affect the strength and durability of the bag. With so many options to choose from, we will advise you on the best choice for your bespoke paper bag.
5. Decide on the best handles for your paper bag design
There are lots of different paper bag design handle options. Here are some of the options:
Die-cut handles are made by cutting shapes from the bag itself. Ideal for a more modern look and easy to store.
Ribbon bag handles are available in a range of colours, and can also be printed to suit your branding.
Rope handles made from cotton or polypropylene rope are a popular choice. They are also available in twisted rope and in many colours. T-lace or knot finishes also available.
Twisted paper handles are included in the standard price of our Premium Twisted Handle Paper Bags. They are available in white or brown, or other colours to match your branding.
6. Print finishes
Print finishes can elevate your paper bag design from standard to luxury, sometimes with minimum additional cost. Here are a range of print finishes, which can be applied to really make your luxury paper bag stand out:
lamination: this can make your bag's colour 'pop'!
hot foil stamping: apply metallic foil or holograms on your designs or logos
printing inside the bag: for that added special touch
spot UV varnish: adding gloss to a particular element of your design
or embossing/ debossing: raising or indenting the imprint of the material
So, there are so many ways to make your paper bag designs stand out. Too many options to choose from? Don't worry! As dedicated luxury paper bag specialists, we can advise on every aspect of your paper bag design. Now all you have to decide on is what size you need!
Never miss another Luxury Paper Bags article!
Click below to receive all our latest packaging articles…