Make your branded luxury paper bags stand out in 2020.
Luxury paper bags are ideal for those who want to give their customers a little extra something to make them feel special. It shows that your brand is different than the rest of the businesses out there and is likely to make them come back time and time again.
If you use luxury paper bags for your business and customers, then you're already on the right track. You're standing out from the crowd, whilst taking the extra step to make things appear more expensive and elite. But sometimes it can be a struggle to consistently come up with unique and fun trends to get your printed paper bags noticed.
Obviously, you want them to have your brand on them – but what else? If you're handing out luxury paper bags, then the chances are that you'll want to stay on top of the latest trends so that you're ahead of the curve.
We've got you covered with some of the biggest branding trends expected to take 2020 by storm – so you can stay one (luxurious) step ahead of the competition.
Eco-friendly and sustainability
One of the most important trends anywhere now is being eco-friendly. With more and more people becoming aware of the impact humans have on the environment, we are turning to more sustainable ways of living. And this means companies are too.
This trend is one that be applied when thinking about your branding. Think about using sustainable products, ethically sourced materials and fair-trade goods. Having eco-friendly products (including your printed bags!) is a great way to attract customers – it shows that your company is doing its bit for the environment and that your customer doesn't have to feel guilty about shopping with you!
Being eco-friendly is a big thing that a lot of people look out for when choosing a brand – so don't let the team down at the last minute. Our printed recycled paper bags are perfect for promoting a sustainable message whilst helping the planet.
Minimal, metallic
Metallic trends come and go, and they always seem to be more prevalent around the holiday period (think Christmas and New Year glitter!) but in 2020 expect to see a lot more of it wherever you go, no matter the time of year.
This trend is sleek, sophisticated and modern – perfect for tech companies or companies that pride themselves on being sleek and stylish. Metallic colours (gold, platinum, rose gold and copper) seem to radiate luxury, so if this is the message you want to send – this is one trend to consider for your luxury gift bags.
Typography
Typography has been around since, well, typing. But this year the more out-there the better.
Free-spirited seems to be the mantra for any typography-enthusiast. The more unique lettering, colouring and unexpected shapes, the better.
Brands are going to be using different fonts (think two or three within the same design), bold colours and even images to show off their fun and crazy side. If your business doesn't take itself too seriously, this is definitely a trend for you to think about. Striking typography is a great way to add brand personality to your personalised paper bags.
Line art
In the age of adult colouring books and minimalist tattoos, it appears line drawings are making a comeback. The charm of line art and drawings is simplicity – it reminds us of a time when colouring was our main priority.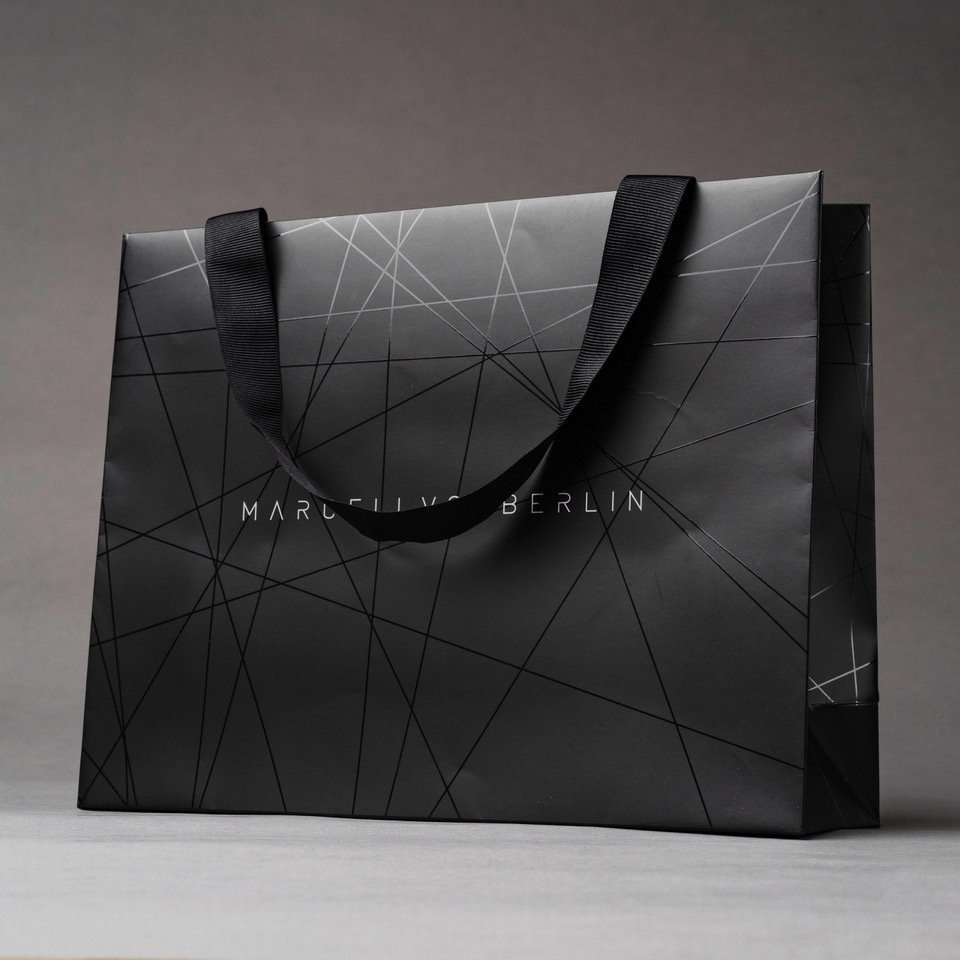 However, it also feels 'clean' and new, allowing a brand to be both sophisticated and fun at the same time. The brilliance of line art is that you can play around as much as you want, without losing the sense of refinery. This trend is perfect for independent boutiques and hipster brands.
Line art and branded paper bags are two incredibly simple ideas coming together to form a beautiful piece of branding.
For further luxury paper bag branding and design advice, get in touch. We would be happy to help you craft the perfect, on trend design that captures your business. Call us on 0333 335 0465 or email info@luxurypaperbags.net.