You want luxury paper bags that are the perfect size and shape for your needs. You want a bespoke finish that truly reflects your brand, at the right price. So how do you know where to start?
We've put together this Guide to Buying Luxury Paper Bags to help.
1. Choose the size of your bag
The base price of your bag will depend on its size. Smaller bags are cheaper than larger bags, due to the quantity of materials used and shipping costs.
If you choose from our standard bag sizes we can make up your order without making a new cutter, so ordering one of our standard sizes is cheaper. Take a look at our Bag Size Chart to see our huge range of luxury bag sizes. If you need something different, we're happy to make up bespoke bag sizes to order.
2. Decide how many bags to order
Our minimum order for luxury paper bags is 250 bags. If you order more the price per bag will be lower, as bigger orders are more cost effective. Customers often place repeat orders having been so pleased with our printed paper bags – if you think this might be you then it is cheaper to place a larger order in the first place!
3. How many colours do you want to print?
The price of your bag will vary depending on how many colours you want to print, and whether you want a special option such as metallic colour print. A single colour print logo will cost less than a full colour printed logo.
If your logo or artwork has up to 4 colours we can print using either screen print or offset print technology, using the Pantone specific colours for your print.
For printing of more than 4 colours we offer full colour print using high quality offset print technology using CMYK colour specification. If you need any assistance in understanding which is best for your printed bags please let us know.

4. Select the type of paper for your bags
Your bag will look and feel different depending what type of paper it is made from and how thick it is. The type and weight of paper used will also affect the strength and durability of the bag.
Here are the types of paper we use, and their thickness:
Brown or White Kraft Paper 120 – 220gsm
Uncoated paper with a natural feel, Kraft paper is the most popular and cost effective paper. You will most often see it used for printed paper bags with twisted paper handles or prestige kraft paper bags.
White, Brown or Coloured Recycled Paper 120 – 270gsm
Another uncoated paper with a natural feel, Recycled paper is made from 100% recycled old paper. No additional trees have been used to produce this paper so it is an eco-friendly choice. This paper can be widely used for production of all our bags.
Uncoated Art Paper
Uncoated Art Paper is made from wood pulp. It is an ideal paper for making printed paper bags as it has a smooth surface that accepts prints well. It is available in different thickness, colours and textures to suit your needs:
Uncoated Coloured Art Paper 120-300 gsm
Available in a wide range of colours, Uncoated Coloured Art Paper has depth and opacity. It provides a smooth surface for printing and is highly durable. Used mostly for our Unlaminated Paper Bags with a single colour screen print, or with extra finishes such as hot foil stamping and UV varnish.
Coated White Card Paper 190-220 gsm
For this luxury paper the card paper base is covered with a thin mixture of mineral pigment and glue and smoothed with special rollers. The process gives Coated Card Paper a smooth feel and special opaque whiteness that means graphics printed on these bags will be more vivid, with clear and intense colours. This paper needs to be laminated after printing. Used for the Laminated Paper Bags in thickness between 190gsm and 220gsm.
Textured Art Paper 250-300 gsm
White or Coloured Uncoated Paper embossed to give it a luxury texture. Used mainly for Unlaminated Paper Bags.
---
5. Choose handles for your bags
We have lots of different styles of handles for your luxury paper bags, and they can each be used on any size or type of bag.
Twisted Paper Handle Bags
Twisted paper handles are included in the standard price of our Premium Twisted Handle Paper Bags. They are available in white or brown, or other colours to match your branding.
Twisted Paper Handles are simple, relatively strong and economical. Made from 100% recyclable material, which means the whole paper bag is fully recyclable.
Rope Handle Paper Bags
Rope handles made from cotton or polypropylene rope are a popular choice. Simple, softer than twisted paper handles, but still at a attractive price. Available in twisted rope option. Attached to bag with a T-lace or knot and available in many colours.
A T-lace is the cheapest way to finish the raw end of a rope handle. The small plastic fittings prevent the handle from slipping out. Available for cotton and polypropylene rope handles.
A rope handle tied with a knot at the end is more expensive than a T-lace fitting because it will require more manual work. However, some value the personal attention to detail.
---
Die Cut Handle Paper Bags
Die-cut handles are made by cutting shapes from the bag itself, which give a more modern look and can make your luxury paper bag easier to store.
---
Ribbon Handle Paper Bags
Our Ribbon bag handles are available in a range of colours, and can even be printed to suit your branding. The ribbon handle option is popular with Laminated Paper Bags , Unlaminated Paper Bags or Prestige Kraft Paper Bags and can be used for any size from small to large bags.
Satin Ribbon has a soft feel and luxurious look, so will give your bags added glamour.
Ribbon handles can be tied with a knot at each end or secured in the top fold of the bag.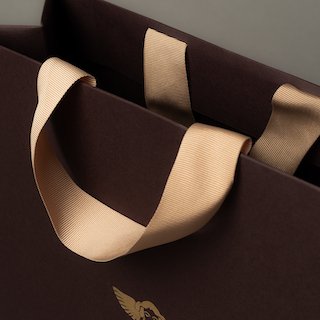 Satin Ribbon or Grosgrain Ribbon (with textured strips) handles are often inserted into the top fold of paper bags rather than in holes. They offer a premium look and a softer hand hold.
6. Decide whether to have lamination
Lamination is the process of applying a thin layer of plastic to paper sheets to enhance and protect the printed content. Lamination finishes make the paper bag more tear-resistant, water-resistant and durable, so they can be handled more and are likely to be re-used. We don't laminate bags made from uncoated paper, recycled paper or kraft paper.
We have the following lamination options:
Gloss Lamination
This gives a glossy finish to your luxury paper bag, often making the print appear crisper and sharper. It provides a durable finish which resists dirt, dust and fingerprints.
Matt Lamination
Matt lamination gives an elegant and sophisticated finish. Unlike gloss lamination, matt lamination can provide a softer look. Matt lamination is not recommended for dark coloured bags as it is not scuff resistant.
Soft Touch Lamination / Satin Lamination
Soft touch lamination offers a protective finish with a matt effect and a soft, velvet-like texture. This distinctive finish encourages people to engage with the product as it is very tactile. Soft touch lamination resists fingerprints and is naturally more scuff resistant than standard forms of lamination. It is more expensive than standard gloss or matt lamination.
Metallic Lamination
For a reflective, bright finish we can apply metallised laminate film to your paper bag.
7. Add a special finish
For that extra flourish, add a special finish to your luxury paper bag.
Inside Print
Our standard printed laminated bag is white on the inside. We can add colour or a contrast print to the interior of the bag. Bags maded from uncoated coloured paper will have the same colour inside and outside as standard.
---
Spot UV Varnish
Applying the UV varnish after printing adds a glossy, protective layer over the paper. The most popular option is to make a pattern from UV varnish.
---
Embossing and Debossing
This process raises or presses a surface design into the paper giving a sophisticated 3D structure to your logo or design.
---
Hot Foil / Hot Stamping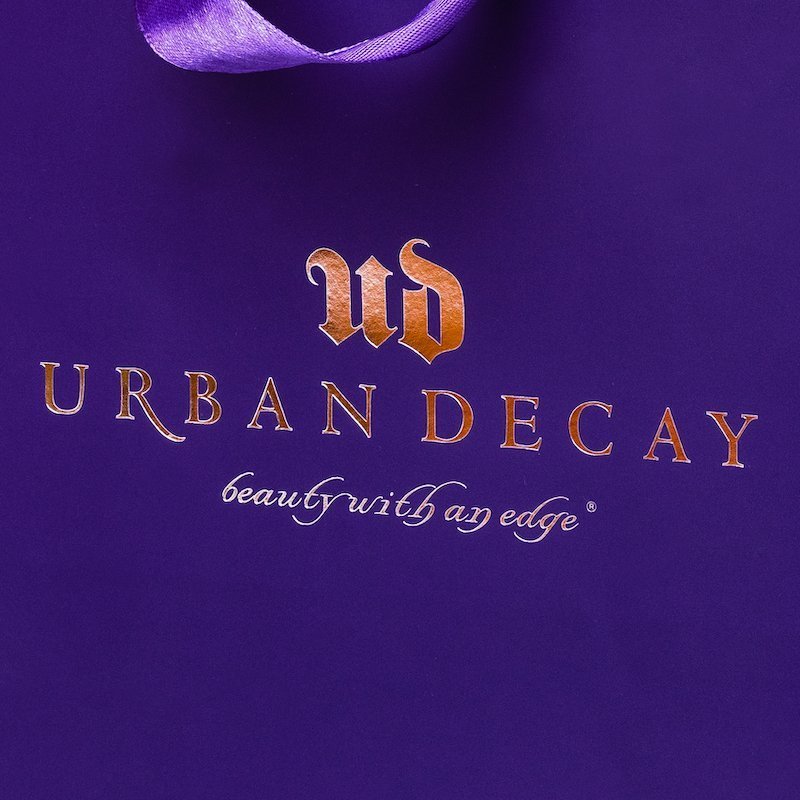 One of our most popular finishing techniques. A metallic foil is applied to the paper surface using heated metal die and a hot foiling stamping machine.
The finished effect creates an eye-catching shiny and reflective surface, especially when Multi-Coloured Holographic Foils are used.

That's it, you've chosen your bag!
Once you've considered all those options, you're ready to place an order. But don't worry, if you're confused or not sure what is the best choice for you, get in touch and we'll help guide you.
We also offer Design Services and other help if you would rather leave it up to us. Our experienced consultants will get back to you quickly, just drop us an email.