How to order packaging from Luxury Paper Bags
Our ordering process is simple and ensures you always know who to contact for more information. Your Luxury Paper Bags account manager will keep you updated at every stage of your order, from quote stage to delivery of your unique bags.
1. Contact us today!
Get in touch by phone, email or by completing the quotation request form. We will be happy to answer your questions and advise on choosing your custom printed packaging. Once we have all the information we need, we will send a detailed quote.
2. Email us your design or logo files.
Once you have accepted our quote, we will ask you to send us the artwork for your design. This will usually be a high resolution graphic file – we can advise you on a suitable format. If you do not have your artwork ready and would like help in preparing the design we are happy to help.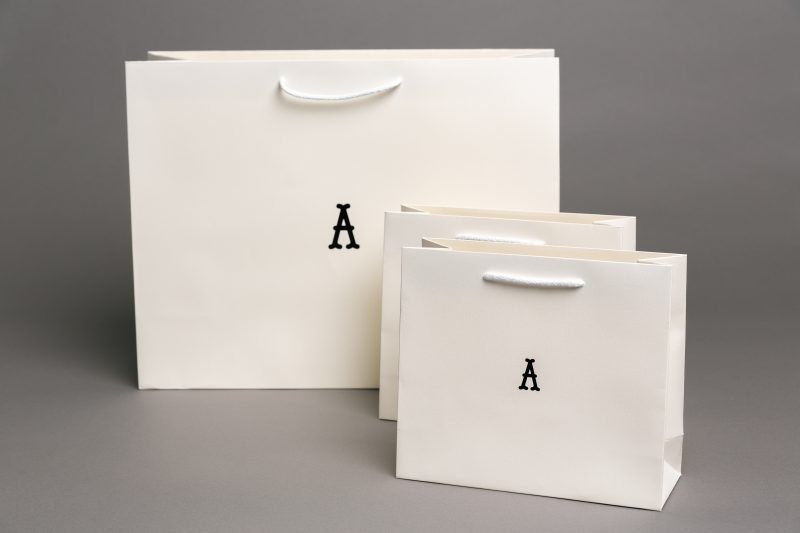 3. Design Creation.
When the final design is ready we will send you the artwork proof. You should check this carefully to ensure that you are happy with everything, including sizes, colours and spelling of any text. We will ask you to accept the proof before your order goes into production. More information on product creation and packaging designs can be found in our handy guide.
4. Payment
Once you have accepted the artwork proof we will prepare your invoice (this can be produced in GBP for UK sales or PLN and Euros for EU sales). Full payment must be received before we start production, unless special arrangements are made.
5. Production
After placing your order and making payment, you will receive a confirmation of your order from us. Lead time is calculated from order confirmation to delivery date. All our bespoke printed products are made to order, and are usually ready within 10-28 days, based on delivery to the UK or within the EU. Delivery time depends on the specification of product ordered, quantity and the printing technology required – we can usually give you a relatively accurate delivery date.
6. Delivery
You will be kept informed about the status of your order. On the day of dispatch you will receive a delivery note from us with shipping details and an estimated delivery date.
7. Customer Feedback
After receiving the product, we might ask you for feedback, to help other customers know what to expect from us, and also to help us consistently achieve high quality products and customer service. We hope you will be delighted with our printed products and will come back again!
---
If there is anything more you need to know, please get in touch.
---
Luxury Paper Bags supplies printed packaging materials for retail, business and commercial customers. We offer branded paper bags, laminated paper bags, prestige kraft paper bags, premium twisted handle paper bags, printed gift boxes, printed gift bags, printed pillow boxes, printed paper pouches and printed tissue paper.
All our packaging materials can be custom printed to give you a consistent brand image, which improves your marketing. With personalised packaging your customer is more likely to recognise your brand and come back for more!