Easter is the perfect opportunity to experiment with your printed paper bag designs.
Printed paper bags have become a status symbol in today's market. They offer plenty of benefits to their users and also gain importance due to being 100% reusable, biodegradable, recyclable and environmentally friendly. They are also preferred because they are neat, easy to carry, can hold lots of items and are used for different purposes.
Because of the increase in demand for personalised paper bags, businesses are designing them in line with their brand as a form of free advertisement, endorsement and brand awareness. People get to know about you, your brand, company and the benefits and service they can get from it.
Customising a printed gift bag is a highly cost-effective marketing tool that all businesses need to adopt as a way of selling their brand. It's a useful and robust way of promoting businesses by providing a good picture of your product and a high level of service to your customers. It creates a conscious bond between your business and customers.
By the end of this post, you'll understand 3 ways that brands can make their bags stand out for Easter promotions with printed tissue paper, printed ribbon and tips for an eye-catching design.
Printed Tissue Paper
Custom printed tissue paper has a success ratio for promotions. It creates a definite conception of the brand and offers a great opportunity of exposing your brand in cost-effective ways.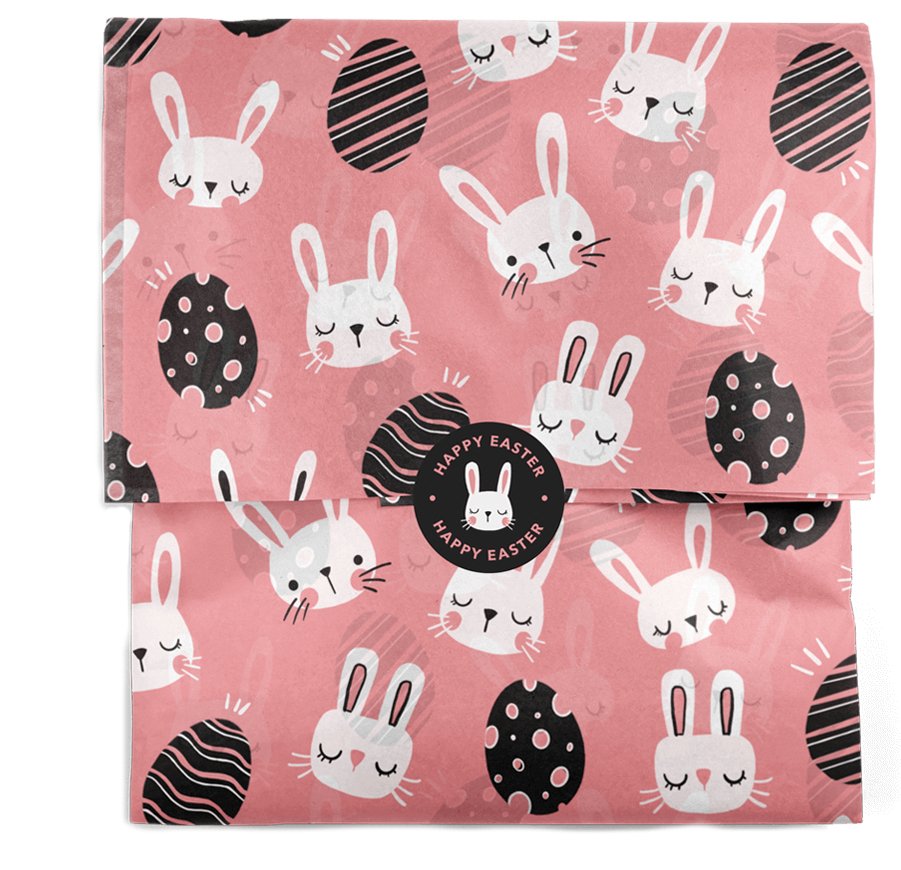 Printed tissue paper has lots of uses and benefits to your brand. It grabs the attention of the targeted audience instantly by building awareness through repeated impressions. Our tissue paper comes in a range of different colours, ideal for giving your printed gift bags a fun pop of colour this Easter.
Printed Ribbon
Brands can also make their luxury gift bags stand out with the use of printed ribbons. Businesses can invest in this option in other to create brand visibilities, thereby leaving a lasting impact on their clients
You achieve this by designing the paper bags with the custom ribbon for corporate gifts, merchandise and giveaways. It serves as another form of marketing tools because your company name and brands are customised on the ribbons and the paper bags.
Merchandise product is an effective way to entice customers to drive interest. As a business, you should understand the importance of packaging to make the corporate gift stand out by advertising your brand to the world. Brands can make their various paper bags stand out with ribbon by customising their company's names or logos to be beautifully printed on the ribbon with Easter greeting to customers. It serves not just as a gift but also a marketing tool at a low cost.
Choose an Eye-Catching Design for your Luxury Paper Bag
An eye-catching design is another great way to make your printed paper bag stand out this Easter. Branding your paper bags with eye-catching designs can have a massive effect on sales and also reduce promotional cost. With this, you can develop a lifelong relationship with your customers. People buy brands not just because they love the brand; they also buy because of the design. You hear people say, 'I love this design!', and before you know it they decide to go for the brand because of the design. So, creating eye-catching designs for your paper bags for Easter promotions will be very helpful in bringing sales to your brand.
Brands can make their printed paper bags stand out by adopting the above method of designing them for Easter promotions. To make the most of the Easter season, design your paper bags to look beautiful, advertise your brand and increase sales.
For more information about our luxury paper bags and to discuss your ideal Easter design, contact our friendly team by calling 0333 335 0465 or sending an email to info@luxurypaperbags.net.